About Solahart Gold Coast
If you're on the Gold Coast solar is a great option for your home. Take advantage of sustainable renewable energy and protect your family against rising energy costs in future with any combination of solar panels, solar hot water system or battery storage system.
At Solahart Gold Coast, we can help you future-proof your home's energy needs. As suppliers and installers of solar hot water, solar power, battery storage, and smart energy management technologies, we have all your needs covered.
We proudly serve the Gold Coast and Hinterland. From our base at Burleigh Heads we serve the entire region from Rainbow Bay and Coolangatta in the south, out into the Hinterland and up to Southport and beyond.
Solahart has over 65 years' experience designing innovative, efficient and durable solar products for Australia. All our systems are installed by fully qualified, trained and experienced professionals. This means a trouble-free process and a system that will be connected safely and in accordance with industry guidelines. All our solar power installers are Clean Energy Council (CEC) accredited and we are part of the CEC retailer code of conduct scheme.
We install only the best: Our high-quality systems include our own Solahart products, designed and manufactured in Australia, and products from some of the very best suppliers that abide by our strict quality standards, to ensure their products are suitable for the harsh Australian climate, such as SolarEdge, ABB, BYD, LG, Tesla and GoodWe.
If you're on the Gold Coast solar is a great option for your home. Take advantage of sustainable renewable energy and protect your family against rising energy costs in future with any combination of solar panels, solar hot water system or battery storage system.
We're extremely proud to be your local solar experts and we service the entire Gold Coast, including:
Simply fill in the details of your latest bill and we'll find out if there's a system that can reduce your power bill to zero, or even give you money back!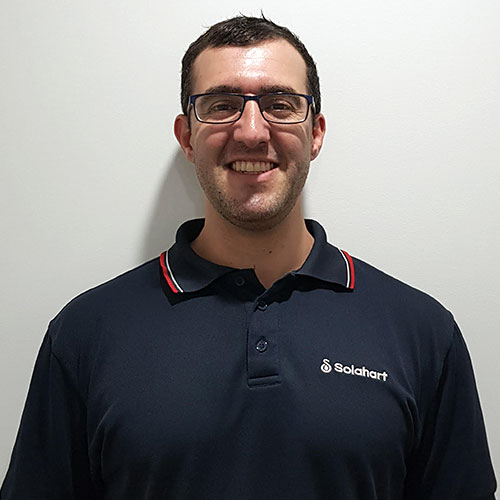 With a background in the Electricity retail industry Adam is a knowledgeable and valuable member of the Solahart Gold Coast team. 
He enjoys meeting New people and helping tailor Energy saving solutions to best suit their Needs. 
He Firmly believes that the time is now for a rapid shift towards renewable energy and is the key to a brighter future.
Adam has a warm friendly personality and loves to share his knowledge.
When not working you will find him out with friends, at the gym or walking the sands of our beautiful Burleigh Beach.
Adam is our newest member to join our Solahart Gold Coast team. 
Having spent Over 15 years in the property industry here on the Gold Coast, Adam is an all round professional who is happy to share his invaluable knowledge and experience with his customers and co workers alike.
With a strong background in sales and marketing, Adam maintains a personable approach and a high level of customer service.
Adam enjoys keeping fit and spending time with his family / children.
John is our new consultant here at Solahart Gold Coast With 3 years experience in the Solar industry, John is passionate about renewables and is here to help as many people as possible reduce their footprint on the earth.
With his vast knowledge and experience, John will find you an energy solution to fit any circumstance or budget.
His previous role in LED lighting developed his strong customer relationship and ethical skills which has definitely helped in the customer focused role at Solahart.
In his spare time John likes to play golf, and spend time at the beach enjoying what the coast has to offer.
We offer free in-home solar assessments to ensure that the solar product you're purchasing delivers the best possible results.
We have a range of payment & finance options available that make it easier than ever before to stop paying for electricity!
YOUR TRUSTED SOLAR INSTALLER
Solahart pioneered the use of solar energy in Australia, beginning with a copper tank in 1953. 
Now, we're still leaders in solar and proudly serve the entire Gold Coast and Hinterland region with our solar products from the best brands in solar.
In addition to the strength and experience of Solahart, we're a Clean Energy Council Approved Solar Retailer.
"Hi John, Solahart: Technicians were on time, installation was completed efficiently with no fuss or bother. Personnel who installed panels and inverter were very pleasant and nice to know. They gave us full instructions on the operation and what happens after that. The bloke from origin came today and connected our new meter, so once the rain stops we will know how effective it is. Thank you for your follow up Regards Ian & Carol"
"Extremely competently installed and very happy with the results. A job very well done Gayle and Brian"
"Great company to work with. Salesman John was helpful and honest, the installation team were friendly and skilled, the support team quick to respond and communicate. 5 stars, would give 6 if I could!!"
"A good experience with Solahart and their friendly personnel. The installers were on time, prompt, with a good explanation of the process of the solar installation. The work area was left clean & tidy."
"Very professional service from initial meeting all the way through to installation and after care. Would highly recommend."
"Denise in the office is very helpful and then guys were polite and efficient. Its a shame that where they lent their ladder to access the roof led to a crack in my cornice. Otherwise I found the service good."
"Very happy, great guys, prompt helpful and responded to any questions after installation will recommend to anyone"
"The whole process of getting our panels was terrific from sales and purchase to the install. The installers on the day were terrific blokes who did an amazing job."
"I have been pleasantly surprised by the service I have received from Solahart. From the first conversation to the end of the installation, everything ran smoothly, which was a great relief for me. I have no hesitation in recommending Solahart to anyone interested in installing solar energy."
4.9 out of 5 star rating from 80+ reviews